WinRxDelivery
WinRxDelivery is a web application that allows live accountability for delivery of medications processed in the WinRx Pharmacy software. It runs in the browser on any device, e.g. PC, Mac, iPad, Android Tablet, iPhone, Android Phone, etc.
Pricing
Monthly subscription $40 (CAD plus applicable taxes)
Yearly subscription $440 (CAD plus applicable taxes)
Requirements
WinRx installed
WinRxAPI installed
Port forwarding
Getting Started
Contact support for a free two week trial subscription. Upon receiving the username and password for WinRxDelivery, activate the delivery function in WinRx by setting Delivery App to Y under WinRx > Settings > Location.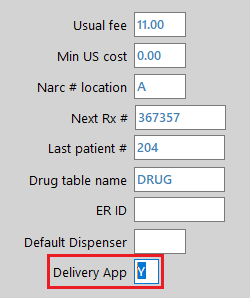 There are two ways to send items to WinRxDelivery
Assign a ROUTE code to the patient's profile. When the route field is set, all Rxs filled will be sent to WinRxDelivery.



Tag Rxs from the local profile (F3 or F7) and send to WinRxDelivery manually.


There are two types of Rxs in WinRxDelivery
Regular prescriptions (non-witness) that will be tracked for the time of pick up and delivery.
Witness prescriptions (OAT) that will require signatures before delivery. To mark a prescription as OAT in WinRx, set the field Witness to Y.


Log in to WinRxDelivery
First, log in using the username and password provided to the store.
Then, log in with your WinRx employee username and password.



Go to ROUTES and pick up your items.


OAT Accountability
Witness prescriptions (OAT) are highlighted in Orange.



The accountability and signature for delivered items are available under transaction history (F3).


Audit
All the accountability and signature logs are available under WinRx > Supervisor > Reports for audit purposes.